<![if !vml]>

<![endif]>
Welcome to the Gohres Companies, Las Vegas, Nevada
News and magazine articles

Las Vegas Life magazine - November 1998
Title: A Brush with Greatness

By Phil Hagen, Las Vegas Life magazine
A Brush with Greatness: Tom Bisesti raises mural standards through the ceiling
<![if !vml]>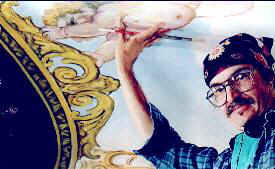 <![endif]>You might say Tom Bisesti's latest gig falls somewhere between Michelangelo's at the Sistine Chapel and Eldin's on Murphy Brown. The painter labors for hours each day on his back, scaffolded to within arm's length of the ceiling. Some weeks he's on a ladder instead, neck craned backward and brush angled skyward. All of this grueling contortion goes toward the creation of room after room of heavenly murals--all for one house.

But the "Villa de Reve"-as Bill and Millie Gohres call their 10,000-square-foot residence-is more like a European palace, with imported art pieces and fixtures covering just about every inch. Bisesti's job is to help make this "Dream House" come true. Bisesti has been a freelance artist since leaving the University of Hartford thirty years ago. He isn't really a live-in house painter, but after more than three years working under one roof, if his body isn't there, his mind usually is. "I think about it twenty-four hours a day," he says. "In the back of my dreams, there are always colors and sketches."

The recesses of Bisesti's mind may be as vital to the project as his steady hand. Sometimes he starts with nothing but bare plaster, vivid imagination, and cranked-up Van Halen (on headphones, of course). But due to Bill Gohres' eclectic tastes--Bisesti calls him "the quintessential Victorian"--each room generally comes with a theme and a "given." In the "Czar room," for example, the mood is Baroque and the centerpiece is a reproduction of Adolphe Bouguereau's "The Birth of Venus" glued to a ceiling. From such starting points, Bisesti embellishes the entire space--walls, too-- mimicking the master's technique. He will also work with an interior designer's motif, which has meant dreaming in chinoiserie for months. What stands out in the finished product, says Jeri Packe of the Pavilion Design Group, is Bisesti's ability as a trompe I'oeil artist. "Tom's very good at giving visual distance to a wall. He paints gardens that look like you can see off a balcony for a half mile." He goes to great lengths to create the effect. To capture the third dimension in a scene of jovial characters overlooking the Gohres' foyer, Bisesti built a mini balcony in his backyard, dressed friends in Renaissance-style costumes, lay on his back, and took a photograph.

Another Bisesti quality is an eye for proportion, according to Bill Gohres. "He's able to take a Picture of famous art from a book, put it in the right size, and make it all come together in a room." This is exceptionally difficult, Gohres adds, considering his home' s eccentricities, from irregular angles to a 558-pound chandelier. And did Michelangelo ever have to paint over a smoke alarm? Solutions for such problems don't just pop up in dreams. "Sometimes it's more like a nightmare," the artist says. But, after suffering the normal droughts of a studio artist's career, Bisesti has no complaints about a regular paycheck. And he finds the Gohres' go-with-the-flow spirit "liberating." Still, the "burnout factor" looms around each corner. "It would be impossible for one person to do this whole house," he says. So Packe has taken on a big role in redecorating the ten year-old-home, which, by the year 2000, will be used more often to host various fund-raisers for the Gohres' charitable foundation.

Meantime, Bisesti can't wait to finish up so he can hit the canvas again. "After this. I could probably crank one out in a half-hour," he says of his contemporary paintings. That's his true talent, Packe says. "His work is very unique." But if that doesn't pay the rent, he could probably find work at the next-door strip mall, where there's a business called Ceiling concepts.
All contents ęcopyright 1998 Las Vegas Life magazine.
<![if !supportLineBreakNewLine]>
<![endif]>
<![if !vml]>

<![endif]>
Click here to return to the William Gohres menu