<![if !vml]>

<![endif]>
Welcome to the Gohres Companies, Las Vegas, Nevada
News and magazine articles
Las Vegas SUN - January 20, 1997
Title: Heart and Home: Millionaire couple's house of dreams

By Art Nadler nadler@lasvegassun.com, LAS VEGAS SUN
<![if !vml]>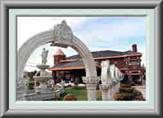 <![endif]>It's not Whoopi Goldberg's Hollywood-style mansion, a drug house or an illegal brothel. Such rumors make William Gohres shake with laughter. Villa de Reve, translated literally, is "Our Dream Home." Gohres and his wife, Millie, built their $6.5 million, two-story brick home 8 1/2 years ago. It sits like a majestic feudal castle, its blue porcelain tile roof with twin copper-covered towers glistening in the afternoon sunlight. A massive black iron electric gate surrounds the three-quarter-acre estate at 6150 W. Palmyra Ave. It is guarded by video cameras and a high-tech alarm system. The elongated front yard is adorned with statuary that includes mythical gods, Venus-like beauties and towering Greek pillars. Within the 8,500-square-foot sanctuary is a virtual microcosm of Renaissance Europe, featuring copies of the work of some of the world's greatest painters on the walls and across most of the ceilings. You enter Villa de Reve through a 650-pound carved wooden door. It is 7 inches thick and requires five ball-bearing hinges.
<![if !vml]>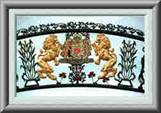 <![endif]>The Gohres family crest is the first thing you see. It's embedded in the foyer floor and weighs 1,200 pounds. A crane was required to lift and place the Italian mosaic in place. "We started to build this home because the ones in Las Vegas weren't what we wanted," Millie says. "We lived in a Spanish home in California. After we traveled in Europe, we realized that this was the look we wanted." A typical Las Vegas two-bedroom, two-car garage stucco home still remains on the property to the rear of the estate. This was the house the Gohreses lived in while they were building Villa de Reve. Today, it serves as servants' quarters. "The (outside) walls are a foot thick," Bill said of the details he demanded. "Whatever the (building) code said, I went to the next stage." The foyer to the five-bedroom, eight-bathroom mansion is divided in two, separated by a winding 5-foot-wide marble staircase and overhead walkway. A 558-pound glass chandelier, a 5-by-5-foot sphere, hangs from the ceiling. In all, 13 crystal and porcelain chandeliers are featured throughout Villa de Reve. Doorknobs are also either crystal or porcelain. There are seven marble and carved-wood fireplaces in the formal dining areas, the library and bedrooms. Numerous hand-carved cherry-wood mantles, grandfather clocks and wall fixtures are found in virtually every room. Many of the bathroom fixtures are finished in 22-karat gold plating. "When a married couple builds a home, it tests the marriage," Bill says with a laugh, giving his wife an affectionate nudge. "I had a choice. Send the money back to (Washington) D.C., or give it to charity. We decided to do this."
<![if !vml]>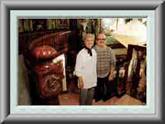 <![endif]>The Gohres donated their beloved Villa de Reve to charity in 1993, forming the Gohres-Hohmann Foundation (Hohmann is Millie's maiden name). Their plan is to host six to eight charity fund-raisers a month. So far they have hosted parties for the Boy Scouts of America and firefighter organizations. They will remain as caretakers and live in the home, opening it up to tours (including their living quarters) with all proceeds going to charities. "Our slogan, as seen in our crest, is 'Giving From the Heart,'" Bill says. "All I'll want is to get paid for the catering (of fund-raisers), and then I'll hand over a check every month. We'll keep no money." Self-made millionaires Bill was born and raised in Orange County, Calif. Millie is from Arkansas. They met while at an Alpha Beta supermarket in California. Millie was a checker, Bill a manager. They married in 1972, and shortly thereafter began investing in real estate and income properties. Good fortune quickly became a silent partner. "I made my wealth in California and tripled it in Nevada," Bill says, referring to his development of a 320-acre North Las Vegas site in 1988 called Rancho Del Norte. "Now we want to give it back to Nevada through this foundation. This foundation will be a billion-dollar foundation before my death."

The artist Tom Bisesti, 48, is the artist who painted the murals on the walls and ceilings. He also hand-painted highlights in much of the carved wood throughout Villa de Reve. Bisesti, a 12-year resident of Las Vegas, began working with the Gohres one and a half years ago. He usually works six days a week from 11 a.m. until 9 p.m. "For a free-lance artist, this is a dream come true," Bisesti says. "It's a long-range project that I enjoy, working for really supportive people who allow me total artistic freedom. "I get to see rooms transformed with just some paint and imagination. It's very exciting and a major process." At one point, Bisesti hung scaffolding high above the main foyer and across the second-floor walkway. He posed and took photographs of five friends in his back yard to model many of the ceiling mural scenes. "The foyer ceiling is 1,300 square feet," Bisesti says. "It took three months to paint and another seven months for the walls. I did it all myself. There were days I didn't think I would finish. Just to keep my stamina up was a challenge." Bisesti's secret? He stuck on a pair of Walkman headphones and cranked up the rock 'n' roll.

He figures he still has about three years of work ahead. "I completely underestimated the size of the place and complexity of the work," Bisesti says. "It's a landmark in my career, and I've been free-lancing for 27 years. "Here in Las Vegas, everyone is moving so fast. Maybe this will make people realize that there is something more in Las Vegas. This house is a tribute to an era gone by." The Gohres have hosted seven charity fund-raisers to date. They think it will take two more years -- finishing the murals and finalizing the government foundation requirement -- before they're ready to do charity events full time. "When people come to visit for a cause, they won't be able to take Villa de Reve all in one visit," Bill Gohres boasts. "You sprout your wings when you make it. I'm a multimillionaire, and I did it all. So now what do I do? "It's very, very rare that someone gives back to charity. But that's what we plan to do."
All contents ęcopyright 1997 and 1999 Las Vegas SUN, Inc.

<![if !vml]>

<![endif]>
Click here to return to the William Gohres menu