<![if !vml]>

<![endif]>
Welcome to the Gohres Companies, Las Vegas, Nevada
The Gohres-Hohmann Foundation    <![if !vml]>
<![endif]>
<![if !vml]>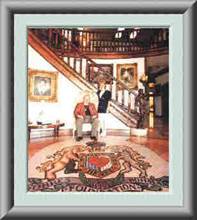 <![endif]>"It is rare for anyone to have the opportunity to create a charitable organization," says William L. Gohres, co-founder of the Gohres-Hohmann foundation. "My wife, Millie and I have that privilege - to set up something that will act as a force for the good of the community long after we're gone.
"Giving from the heart" is the foundation's slogan, and the prospect of giving has brought William and Millie Gohres a new outlook on life. The couple, who amassed their fortune through their acumen in real estate development, has arranged for the foundation, which was officially formed on November 24, 1993, to be the heir to their estates and trusts. They have been busy clearing all the legal hurdles involved in creating a new charitable organization, including IRS and government approval. The Gohres are now ready to get down to business - the business of giving.
<![if !vml]>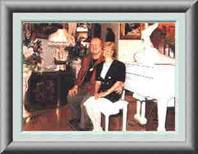 <![endif]>SUCCESS STORY
Born and raised in Orange County California, William Gohres married Arkansas native Mildred Hohmann in 1972, when both were employed by the Alpha Beta Supermarket chain. Their initial real estate endeavor resulted from the sale of properties, which appreciated 40 percent in just one year. William started a home improvement business, which he owned and operated for 10 years. The business was partially utilized in the appreciation of properties the couple were buying and selling at the time. To their surprise, the properties they had purchased had risen in value by 100 percent every three years. They began trading their income properties for small industrial parks. In 1985 the Gohres began looking for various real estate and income properties in Nevada. They focused their ambitions in 1988 on a 320-acre site in North Las Vegas they called Rancho Del Norte, which eventually grew to comprise 2,000 homes and commercial sites designed by 14 builders. Despite the risk of pioneering the development of a community in a part of town not accustomed to such benefits, Rancho Del Norte was an immediate, award-winning success. Other developers followed the Gohres lead, transforming the area into one of the fastest-growing sections of the Las Vegas valley, and earning the nickname the "Golden Triangle."
<![if !vml]>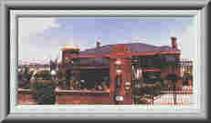 <![endif]>VILLA DE REVE'
The Gohres enjoyed their time in Nevada so much that they decided to make it their home. In 1986 they purchased a lot in the northwest part of Las Vegas and drafted plans for what is known today as Villa de Reve' ("Our Dream Home"). They took one year off from work to oversee construction of the residence, which is now a landmark in southern Nevada. The $10 million, two-story brick home stands like a European castle. The twin copper towers are often admired by motorists driving on nearby Jones Boulevard. Inside, cherry woodcarvings, chandeliers, stained glass, and marble are found throughout the 10,000 square feet of living space. There is also a guest house and statuary on the grounds. Recent remodeling has added another 3.5 million in art, porcelain, and silver and gold collectibles acquired by the Gohres during their travels abroad. The first thing visitors see when entering Villa de Reve' is the Gohres-Hohmann Foundation's whimsical version of an aristocratic family crest, depicting a California Golden Bear and an Arkansas Razorback. Since the home was completed in 1988, the Gohres have hosted many parties every year to raise money for charities like Boy Scouts of America, IPOF, firefighter organizations, and others. Now that Villa de Reve' has become the headquarters for the foundation, the Gohres hope to host six to eight parties each year. The home is now open year-round for visitors to Las Vegas, with all proceeds raised going to the foundation's charities.
Early in 1995 the Gohres completed a major transaction with the IOF Foresters, a fraternal benefit society that offers social benefits to members and aids others in times of need. This non-profit entity is one of the largest fraternal organizations in the world, with more than 1 million members in the United States, Canada, and the United Kingdom. "They are involved in 20 national charities in 10 states," says William Gohres. "By tying in with them, we can attract the involvement of important people from the worlds of politics, sports, and entertainment." The IOF Foresters is the first of what the Gohres hope will be many corporate sponsors whom "believe in us and like what we're doing enough to help us out." At present, the foundation has chosen to contribute only to established organizations that meet certain criteria. "We'll give to a charity, as long as no more than 35 percent of its income is devoted to expenses. Other organizations have been hit by scandal in the past, and we don't want that to happen here," explains William Gohres. "Guidelines are set in place to make sure that it doesn't. In the future, the foundation hopes to endow its own network of southern Nevada charities, to assist everyone from abused children to needy senior citizens. The Gohres ambition is to transform the foundation into a billion-dollar operation. A significant step toward this goal will be taken at the death of William Gohres, when the foundation will automatically receive $100 million. "They say you can't take it with you, so what should we do - give it to Washington, D.C.?" says William Gohres. "Sorry, we'd rather give it back to the people."
HIGHLIGHTS OF THE GOHRES-HOHMANN FOUNDATION EVENTS
Since the Opening of The Gohres-Hohmann Foundation the response from our local charities has been overwhelming!  Each fundraiser is bigger and better because of the mystique & intrigue that has been surrounded with the estate.  Villa de Reve', (Our dream home), is known by most all Las Vegas residents due to the unique exterior it presents.
Visitors attending our events say, " I have always wondered who lived here & what was inside!"   That was the instinct Mr. & Mrs. Gohres went off of when they decided to open the Foundation to other non-profit organizations.  They knew that guests that support fundraisers want to be invited to an event that they will remember!    So, with that in mind, the idea of hosting fundraisers began…
Our event package includes an evening of class, atmosphere, fine cuisine, entertainment, valet & security service, and of course the extravagant 10,000 European estate to tour through.  An evening like no other, this estate has a personality of it's own, and visitors experience the true meaning of  "Giving from the Heart,"  Mr. & Mrs. Gohres motto.
Topping our list of nonprofit participants that have committed to our fundraising is The Ronald McDonald House, Childhood Cancer Society, The Arthritis Foundation, Boy Scouts of America, Big Brothers & Sisters of Nevada, MDA, The Monarch Group, and The Candle Lighters of Las Vegas.
If you are interested in organizing a fundraiser, or would like to be added to our mailing list, please leave your comments at WLGohres@gohrescompanies.com
<![if !vml]>

<![endif]>
Click here to return to the William Gohres menu